So this is what Lauren and I were up to this past weekend...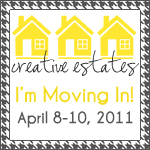 We had a great time at the Creative Estates Conference and were thrilled to be surrounded by so many talented and creative crafters and bloggers (and to be around people who totally 'get' blogging). The breakout sessions provided tons of useful information on various topics, and I even learned from Shelley at

House of Smith's

, that these things (...) are called ellipses...thank goodness because I use them ALL the time :). Speaking of Shelley, we got the chance to meet and chat with her a bit and she is SUPER sweet and hilarious...and she can sing too! We follow and love her blog so it was exciting to talk to her in person. Sadly, the picture we took with her is really blurry and I would be breaking every blogging rule out there about good picture taking if I posted it...but I'm gonna anyway cause it's THE Shelley!
We met another one of our favorite creative ladies...the one and only Jen from

Tatertots and Jello

(not sure why we didn't have someone take ONE picture of all of us...duh). She is so nice and down to earth!
And then there's the Queen of Party Inspiration...Kim from

The Tomkat Studio

. We've been following her blog for a long time so it was cool to meet her!
Kendra from

My Insanity

is another great blog we love (again...we each had to get our very own picture???)
And we made some new bloggy friends! (top left) Aimee from

Paging Supermom

, Heather from

Sweet & Simple

, (bottom left) Jessa from

Sparkle

, and Whitney from

Turbo Bubblegum

. It was so fun hanging out with them, hearing their stories and sharing ideas.
We met so many other amazing ladies and got tons of great tips from some of our favorite bloggers. And, of course, we did some shopping at the Handmade Market. Lauren even won a ticket to next year's Creative Estates Conference so looks like we'll be going in 2012 too!